SWALLOWED
A SUBURBAN MOM'S LIFE IS UPTURNED BY THE BEAST GROWING INSIDE HER.
What if the ideal life you've meticulously constructed isn't enough? Your swallowed truths, buried longings, become a parasite that lives off you, in you, with you. It's a nagging reminder of the unrequited; a codependent affair. This breaking point is the film SWALLOWED. Sam, newly a mother, shops at a supermarket with her baby and husband Carlson. She throws a neighborhood shishkabob party in her den. Her family shares a Sunday breakfast. But through her smiles and picturesque tasks, there's a suppression. Sam's grown something she can no longer contain. As she purges this parasite, we move inside her body and experience this wildness as a feverish dance.The parasite ejects us back into the kitchen of another woman, alone eating breakfast as she looks at a happy couple pictured on the back of her cereal box. It's Sam and Carlson. What's beneath a picture? A dream within a dream. Horror meets dance, SWALLOWED suggests a complex truth to motherhood and domesticity.
Available on the Criterion Channel
Interview on the Criterion Channel
Part of the omnibus feature collective:unconscious.

Produced by Andrew Houchens
Executive Produced by Dan Schoenbrun
Cinematography by Dagmar Weaver-Madsen
Composed by Mark degli Antoni
Starring Lily Baldwin, Michael Dempsey
&
Acclaimed NYC dancers Fabio Tavares da Silva, Marc Crousillat, Joanna Kotze, Netta Yerushalmy, Austin Lam, Tara Lorenzen, Stephanie Crousillat, and Tim Ward
---
"An extraordinary and scary short film by Lily Baldwin, whose work has a visceral power similar to [David] Cronenberg's [The Brood], but with an anxious female perspective."
— The New York Times

"Baldwin's "Swallowed," has the director herself as a woman whose queasy attitude toward motherhood develops into a "Rosemary's Baby"-type situation of oversolicitous/menacing neighbors and physical revulsion."
— Variety
"In "Swallowed," the dancer Lily Baldwin directs Mr. Carbone's dream as a "Rosemary's Baby"-style horror movie, casting herself as a new mother for whom parenthood is a disembodying experience."
— The New York Times
"The centerpiece involves ritualistic dancing that inverts the meaning of the choreography…Baldwin uses long, intensely subjective takes, gradually dramatizing a body's potential internal invasion as a collection of writhing figures that might mock the vulnerability the mother experiences as feeling newly secondary to her child."
— Slant Magazine
"A Nightmare of Socialization."
— Chris Kraus, author of I Love Dick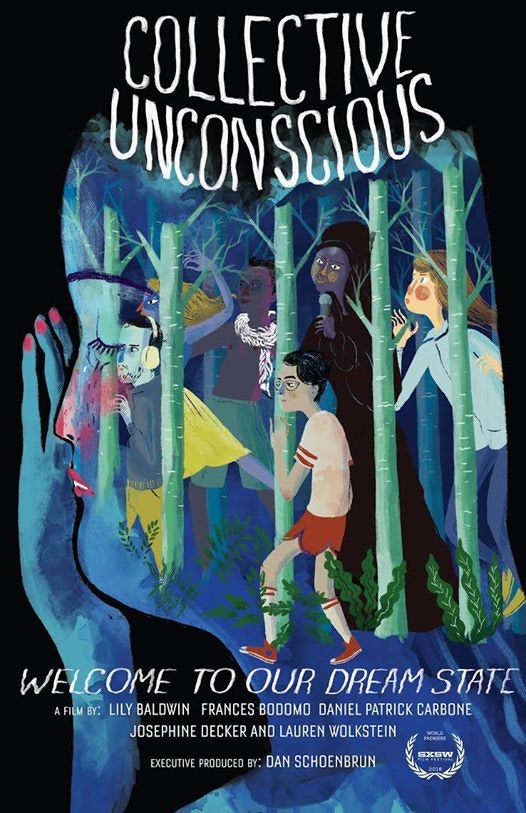 ---
SXSW (WORLD PREMIERE)

IFP Screen Forward (THEATRICAL RUN)
BAMCinemaFest

Palm Springs International Film Festival
Women of Cinefamily LA
Lausanne Underground Film Festival
Galway Film Fleadh

Montclair Film Festival

Independent Film Festival

Maryland Film Festival

Nashville Film Festival

Dallas International Film Festival

Ashland Independent Film Festival

Atlanta Film Festival

Cleveland International Film Festival