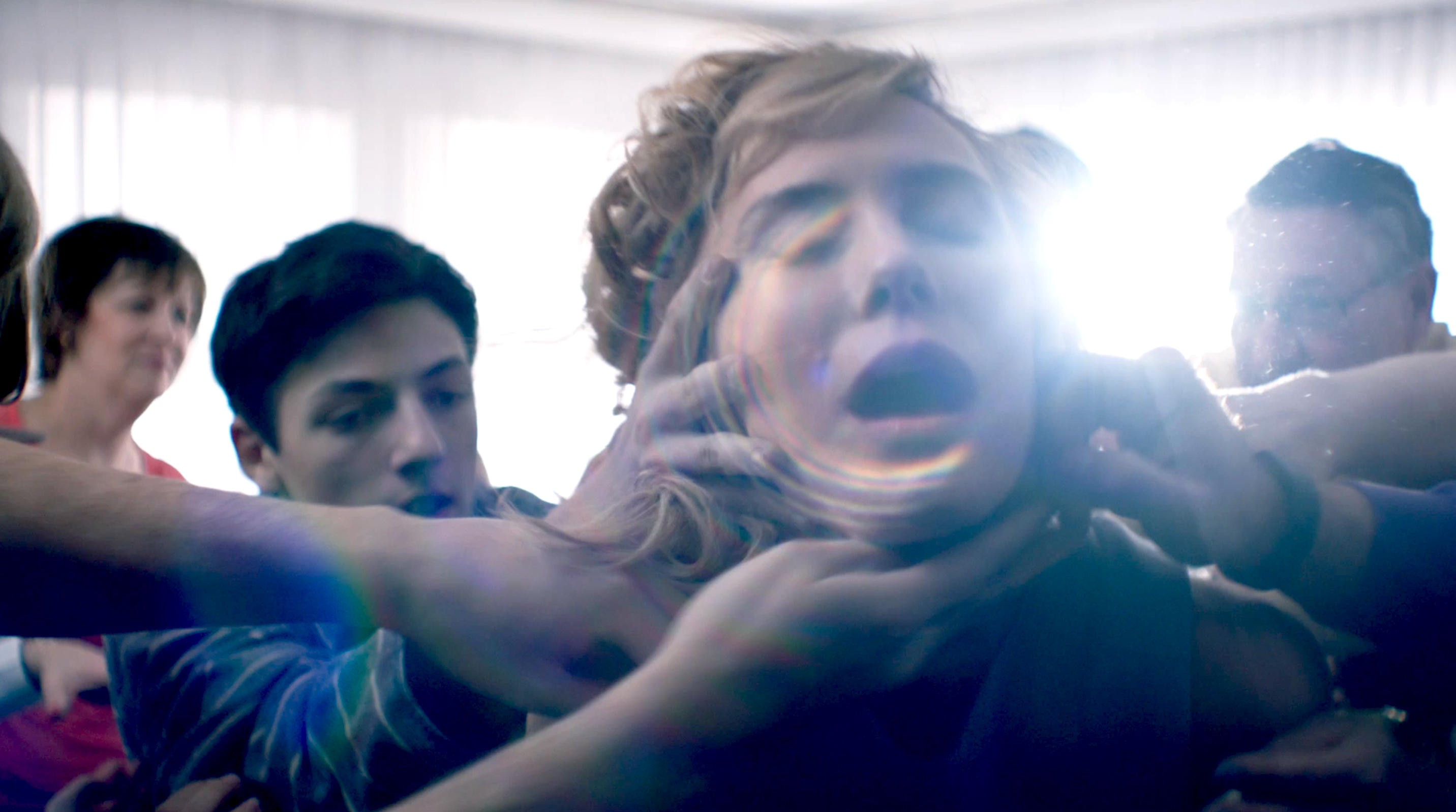 COLLECTIVE: UNCONSCIOUS
Announcements
COLLECTIVE: UNCONSCIOUS
First ever omnibus feature to be in Narrative Competition
WELCOME TO OUR DREAM STATE
Featuring new work by Lily Baldwin (SLEEPOVER LA), Frances Bodomo (AFRONAUTS), Daniel Patrick Carbone (HIDE YOUR SMILING FACES), Josephine Decker (THOU WAST MILD AND LOVELY), and Lauren Wolkstein (THE STRANGE ONES), COLLECTIVE:UNCONSCIOUS pushes at the boundaries of narrative and surrealism, inviting viewers to immerse themselves inside a literal dream state.
---
"It's like nothing you've ever seen with your eyes open."
—Rolling Stone

"In SWALLOWED, the dancer Lily Baldwin directs Mr. Carbone's dream as a "Rosemary's Baby"-style horror movie, casting herself as a new mother for whom parenthood is a disembodying experience."
—NY Times
"This omnibus is among the relatively rare such filmic enterprises"
—Variety
"The mere suggestion of new work from the likes of Carbone, Decker, Wolkstein, Bodomo and Baldwin is enticing enough to overcome any aversion to dream-telling."
—Film Pulse
"Spearheaded by Dan Schoenbrun, who, at the time of production was Head of Film for Kickstarter, the project assembles a hotshot team of rising stars of the short format including site alums Lauren Wolkstein and Lily Baldwin.... The films of this project are uncompromisingly experimental, blending the individual filmmaker's established strengths with surreality."
—Short of the Week
"As one of the filmmakers, it must have been quite an eerie, amazing experience to see your dreams on the big screen: yours, but not just yours anymore."
—Screen Slate
"As they say, there's much more going on in the unconscious — more of artistic use, anyway — than we understand."
—Open Culture
"A mood piece...in alien sickness...carnival-esque group dance scenes...and richly disgusting sound design. In its tangential last act, we witness, perhaps, the origin story of something malevolent being born into our world."

"SWALLOWED captures a different kind of fury, following a mother (Baldwin) as she comes to resent breastfeeding her child, feeling detached from her family and society at large.... A disturbingly inscrutable coda connects SWALLOWED to the concern with stereotypes, and multimedia's exploitation thereof, that runs through this haunting collection like a fine, sharp wire."
—Slant Magazine
"The last segment, directed by Lily Baldwin and dreamt by Carbone, is also one of the most ambitious. Of her conceptual approach, Baldwin writes, "People don't like to admit how strange they are, and that reality is just a performance." Her swelling fever dream follows a suburban mom's descent into madness as her life is upturned by a creature or idea that begins to consume her. "The real stuff of us is non-sequitur, dichotomous, sexy, violent, peaceful, childlike, absurdist, fun," Baldwin writes. "The heading of 'dreams' gives us permission to be ourselves and have us trust things that don't make sense." Utilizing her dance background, she creates an otherworldly experience that swirls dizzyingly towards insanity, but feels vital and somehow familiar."
—Jeffrey Bowers at Vimeo
---
---
SWSW (WORLD PREMIERE)

BAMcinemaFest
Galway Film Fleadh

Montclair Film Festival

Independent Film Festival

Maryland Film Festival

Nashville Film Fetsival

Dallas International Film Festival

Ashland Independent Film Festival

Atlanta Film Festival

Cleveland International Film Festival

Announcements
Announcements