A JUICE BOX AFTERNOON
Film
A JUICE BOX AFTERNOON
THIS REGULAR DAY IS DIFFERENT.
This is the first in a new series Lily conceived as The Paperback Movie Project. Each short film is an interpretation of a novel and explores the fluid relationship between a reader and the characters she is reading. A JUICE BOX AFTERNOON tells the story of Anne Morrow Lindbergh through her own writing as she comes of age, meets Charles Lindbergh, and experiences flight in more ways than one.

It is a regular Sunday afternoon and Kate, The Neighbor, decides to read a book on her New York City stoop. This regular day is different. Her imagination cracks the book open, and Kate falls into the story she's reading: It is a romantic and violent dreamscape with dance and pop- song mashups that ignites Kate's mundane.

Directed by Lily Baldwin
Produced by Ariana Garfinkel, Andrea Claire Maio
Story by Lily Baldwin & Andrea Claire Maio
Text from BRING ME A UNICORN by Anne Morrow Lindbergh
Cinematography by Ben Wolf
Original Score & Music Design by Mark degli Antoni
Songs by K.Flay
Sound Design & Re-recording Mix by Kent Sparling, CAS, Skywalker Sound
Finishing by Contact Color & Post
Color by Blase Theodore
Graphic Design by Timothee Chambovert
Boy Named Skip— Cassius Brook Dempsey
Kate The Neighbor & Anne Morrow Lindbergh— Lily Baldwin
EAMS Productions in association with Topiary Productions

---
"The genre needs directors who are willing to look beneath the surface and to dream, as Lily Baldwin does in her adroit, wry short, A JUICE BOX AFTERNOON."
—The NY Times
"This excellent new piece does exactly what the filmmakers intended, somehow evoking not only the passive experience of reading but the imaginative flights literature unleashes in us."
—Scott Macauley, Filmmaker Magazine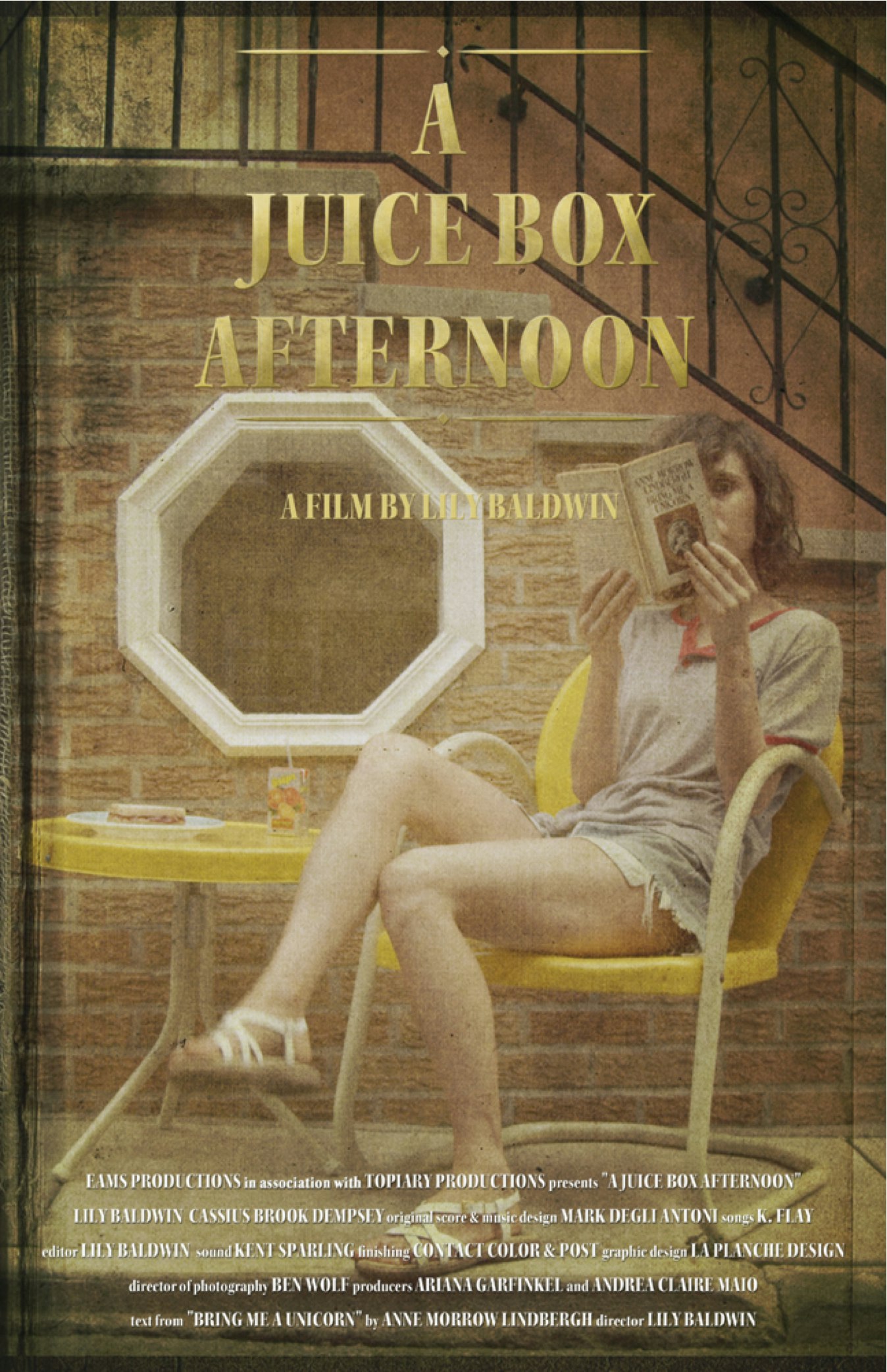 Filmmaker Magazine (ONLINE PREMIERE)
---
Film at Lincoln Center (WORLD PREMIERE)
Dance on Camera Festival Tour
Detroit Institute of the Arts
Modern Art Museum of Fort Worth